---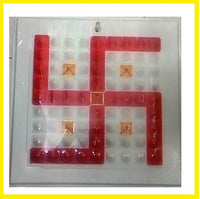 Sale
Swastik Pyramid copper brings all-round prosperity & wellness. It creates purifying, divine & positive energy at the entrance of the rooms. It is must for the home & workplace for success & fast progress. This unfolds worldly pleasure as well as spiritual  upliftment. It harmonizes the internal & external environment to influence the intellectual mind.
Get free ebook on vastu shastra https://docs.google.com/forms/d/e/1FAIpQLSdFoxPjunPvCiUr7fjHNVh8sG-WehSGWkiXf7AXFNSurOPEsA/viewform?usp=share_link
Long description :
                  This unique swastik  pyramid is an auspicious symbol of fortune & wellness, with added powers of 729 pyramids in grid of 81, Red swastik pyramid grid & bottom activator with 9 copper energy radiators. Pyra vaastu swastika has also added powers of 5 copper pyramids for 5 vital pyra centers at the top.
How to Use
                  Just place your swastik  pyramid between your hands & close your eyes, & with a positive mind program it with personal wish. Now stick it or fix it with brass screw wherever you require. Pyra vaastu swastika is ideal for all homes, office, shops, & factory. It is also very effective for cash counters, sales counter & spiritual places. It can be used in multiples of 3 & 9 at a time for vaastu & pyra vaastu.