---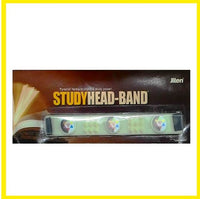 Sale
Since the Pyramids were built, they have been used to improve human understanding and knowledge of this life and beyond. Pyramids have shown noticeable effect in enhancing concentration and memory power. They have been experimented for various purposes by Pharaohs and their families. Let's take a chance to experience its powers!
Long description:
It is enriched with the secret power of the education yantra. It has got 18 in-built pyramids and 3 copper discs for additional power. The uniquely positioned 18 Acu-tips to improve activity of each brain cell. This utilizes the additional power of 3 bi-polar magnets to enhance oxygen levels of the brain. It is must for students while preparing for their tests and exams. This also helps in improving study power, & enhances concentration and mind power, also optimizes grasping and understanding ability.
How to Use:
Sit comfortably on your study desk, wear the study head belt on your forehead. The pyramid and magnet part of the study-belt will be in front of your head such that the copper discs touches your skin and the elastic band will be on the back of your head, now pray to almighty for improved concentration and memory power. You can wear the belt for 10 minutes before starting studies. It is also beneficial for adults while reading or while working on computer.