---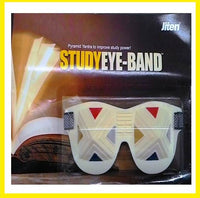 Sale
Pyramids have been used since centuries for improving future vision and giving clarity, since eyes have a direct connection to the brain, visionaries of that time, built Pyramids to give them immense power to see through time and space. By using the same power you can bring clarity and confidence in your studies. You can give a subtle support to your eyes to relax and enhance the power of your brain!
Long description:
Enriched with 2 powerful 9x9 pyramids to relieve stress and rejuvenate the eyes, inbuilt with 2 bi-polar magnets to improve metabolic activity of eye cells. It also covers your eyes to give total relaxation to eyes and brain at the same time. This is must for students to retain the understanding of the subject. It also stabilizes the knowledge and enhances the ability to recall. Helps in relaxing the eyes and thus allowing whatever read to settle into the memory. Multi-energy approach relieves the discomfort in the eyes due to long studying hours.
Get free ebook on vastu shastra https://docs.google.com/forms/d/e/1FAIpQLSdFoxPjunPvCiUr7fjHNVh8sG-WehSGWkiXf7AXFNSurOPEsA/viewform?usp=share_link
How to Use:
Lie down in a comfortable position with your eyes closed. Wear the study-eye belt on your eyes in such a way that the pyramids are in front of your eyes, covering your eyes completely and the elastic band in at the back of your head. Pray to Almighty for stabilization of knowledge and total relaxation. Wear the belt for 5 minutes after completing studies. It is also beneficial for adults who work for long hours on computers or after watching television for longer time.