---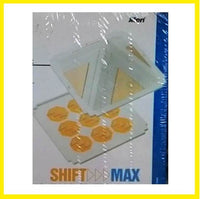 Sale
Energy interplay is the whole Vaastu Matrix! As in the body each vital organ has its specific location, in Vaastu Kitchen, Master bed room, study room, puja room or each room must be at its particular location. But most of the time it is not in appropriate location in our house. 'Shift Max Pyramid' is the answer. To virtually correct the room position here is this unique method! This helps in shifting the room energy in appropriate positions. Most needed tool for PyraVastu.
Get free ebook on vastu shastra https://docs.google.com/forms/d/e/1FAIpQLSdFoxPjunPvCiUr7fjHNVh8sG-WehSGWkiXf7AXFNSurOPEsA/viewform?usp=share_link
Long description :
Powerful 'Max' top and 9x9 pyramid plate with added power of 4 copper triangles on the top. Enrich with 9 Chip pyramids and 81 Pyra-grid, & The Unique design of bottom plate with 9 'Shift Chips' for shifting the room energy in any 1 of the eight directions. Shift-Max is really easy to install, simple in use and more effective than traditional method. It is must for room correction of all flats, apartments and houses. This solves many problems due to its innovative design.
How to Use
                  It is very simple to shift the room energy. First you have to decide in which direction the room position is perfect for that room. Be sure that the bottom plate of shift-Max must have all 9 arrow plates in that direction. Note: You will get all 9 arrow disc separately that can be fix with glue.
If Kitchen in North-East
To shift your kitchens to South-East, just fix Shift-Max on the ceiling near South wall. Note: all arrows should face the south direction as shown.
If Master bedroom in North-East
To shift your bedroom to South-West, just fix Shift-Max on the ceiling near South-West corner. Note. All arrows should face the South-West direction as shown.