---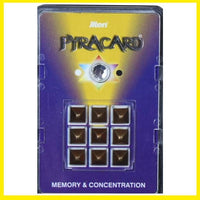 Sale
New pocket size pyramid yantra all round fortune, wellness. This innovative way for personal Vastu & harmony gives you miraculous results. Pyra cards are available for various purposes. Select one or multiple cards according to your need. Benefit with unique features like pre-programmed 9 copper pyramids and a gold base disc at the bottom. Also explore the power of inbuilt FAMA yantra on the top for optical results.
            There are range of 16 pyracards designed for specific areas of your life, 'Memory & Concentration Card' will improve your memory and you will achieve the highest realm of your concentration and bring academic excellence.
Get free ebook on vastu shastra https://docs.google.com/forms/d/e/1FAIpQLSdFoxPjunPvCiUr7fjHNVh8sG-WehSGWkiXf7AXFNSurOPEsA/viewform?usp=share_link
How to Use
      Remove from the packing & turn to the back of your pyracard. Remove the plastic shield from the back of the card & fix your photograph such that it is visible from same side. Also put your signature with red ink before replacing the plastic shield.
      To add more power make 'FAMA' with red ink in the missing link numbers squares or you can tick the 'FAMA' stickers; while fixing the 'FAMA' sticker take car that red triangle must face up.
       Now place the pyracard in your left hand, pyramid facing upwards. Gently place your right hand on the top. Repeat your wish daily. Now place your pyracard in your pocket or purse in such a way that the pyramid are pointing outward direction.
      For better & Fast result you can hold the card in your palm and wish daily for more numbers of time.