---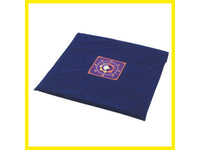 Sale
 Meditation inspires us to find our inner self that has immense power for creativity and growth in every aspect of life. Meditation brings for us an explosion of positive awareness. This awareness attunes, unites and focuses all our energies towards our goal in life. This is an ancient yet very powerful way to achieve success in both material and spiritual world. To reach the state of meditation or absolute effortlessness, we require descending force from heaven and ascending force of earth to harmoniously unite with us forming a blissful link.  Meditation on Pyramid Yantra "Meditation Seat" gives surprising results as it has inbuilt copper yantras to attract the uplifting force of heaven and magnets to stabilize the de-stressing force of mother earth. Thus making it very easy for us to connect and be a part of the blissful heaven-earth link. This specially designed seat with yantra on top helps us achieve health, happiness and prosperity. It reduces stress and makes us feel more energetic and prepares us positively for success.
Long Description:-
Power of 6561 Pyramid Yantra!, Includes 81 Preprogramed Gold chip yantras and 648 copper chip yantras, 729 Magnets to stabilize the force of mother earth, special yantra on top for quick results, Cosmic blue colour for relaxation, Bring good health, success and prosperity, which promotes physical relaxation and calmness. This increases the level of vital energy in our body and gives us an opportunity to experience complete peace of mind, which improves concentration, confidence and memory. Helps us take important decisions at the right time to achieve success. This develops harmony between mind and body. It helps to cope with stress, tension, anxiety and depression.
Get free ebook on vastu shastra https://docs.google.com/forms/d/e/1FAIpQLSdFoxPjunPvCiUr7fjHNVh8sG-WehSGWkiXf7AXFNSurOPEsA/viewform?usp=share_link
How to Use
Sit in a quiet and peaceful room. It is easy to meditate in a quiet room that is free from interruptions of any sort. Take your meditation seat and place it on the floor, which enhances your better contact with the de-stressing force of the mother earth. Allow your sub-conscious mind to work for you. Success is yours!