---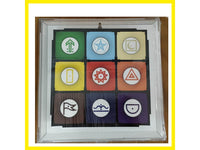 Sale
Navgrah Pyramid disc is for all-round Prosperity & wellbeing, with advance design for fast result! It is also a time saving yantra in combination of computerized design, of the dynamic shapes in horizontal multiplication of yantra & pyramid power & also it is easy for installation.
Long description:
          It is a double layered structure. There are more than 1400 pyramids at the base. There are 9 gold pyramids & on the top is the Navgrah yantra. There are 8 copper & one gold energy radiator discs at the bottom. There is an arrangement to hang this yantra with a brass screw on the wall. The Navgrah disc attracts cosmic energy in the place where it is installed to bring in harmony in the environment to full fill the purpose for which it is installed. The Navgrah yantra is the fortune yantra backed by the enhancing power of more than 1400 pyramids & 9 gold pyramids. It delivers fantastic results.
Get free ebook on vastu shastra https://docs.google.com/forms/d/e/1FAIpQLSdFoxPjunPvCiUr7fjHNVh8sG-WehSGWkiXf7AXFNSurOPEsA/viewform?usp=share_link
How to Use
                  For all round prosperity, just place it in your home, office or workplace & wish for the purpose, now you can hang it on a wall with a brass screw or it can be placed in specific position according to vaastu. For more detailed use & accurate positioning you can seek advice from a Pyra vaastu expert.