---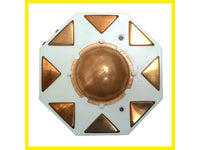 Sale
Natron Pyramid  is a revolutionary solution to rectify the biggest Vaastu defect created by the attached toilets in modern homes and offices. This Yantra can be fixed in Bathroom, Toilets & other negative areas. This is the best instrument to absorb negativity.
Long Description
Natron is a hexagonal yantra with 8 copper triangles pointing towards a copper dome. The copper dome consists of a black cup with a white lid to close it, also there is a facility to fix it up with a brass screw or you can just keep it on the shelf in the bathroom or toilets.
Get free ebook on vastu shastra https://docs.google.com/forms/d/e/1FAIpQLSdFoxPjunPvCiUr7fjHNVh8sG-WehSGWkiXf7AXFNSurOPEsA/viewform?usp=share_link
How to Use
One has to slide the copper dome and keep it aside. You will find a plastic domed case inside. Fill it with Non-iodised sea salt. Put the domed case inside the copper dome. Slide and fix the copper dome on the hexagonal plate. Take it in your left hand and put your right hand on top of it and activate with Fa-Maa. Fix the Natron in the toilet, bathroom or negative places. Remember to change the salt at least once every month.