---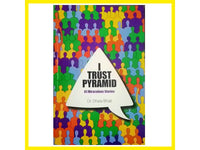 Sale
If you want to learn anything, learn trust. Nothing else is needed. "Trust" a method to attract good fortune and happiness!
Long Description:-
This book will help you learn to Perform the 'Miraculous Yagna' and align yourself with abundance to change everything in your life! This book also describes 81 inspiring real stories which will show you that how their trust in Pyramid power got them what they always wanted and little more. You will also be revealed out the laws and mathematics that run one universe and how they can help you grow rich.
Also we will find the 3 Golden keys to trust and how you can bring the magic into life with trust with in yourself, in others and in God.
Explore the power of trust.
Get free ebook on vastu shastra https://docs.google.com/forms/d/e/1FAIpQLSdFoxPjunPvCiUr7fjHNVh8sG-WehSGWkiXf7AXFNSurOPEsA/viewform?usp=share_link