---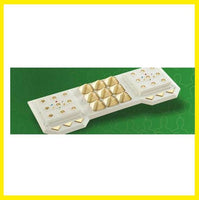 Power of 9x9 Pyramids with 9 Gold pyramids in the centre and 9 small Gold pyramids Bemor plates. Enriched with 18 Gold pyramids and 12 colour crystal. Supported by 8 Radiating discs and 3 Gold plates in the bottom. Fortune Door Gold in the latest invention in Pyra Vaastu and can bring prosperity, Luck and good fortune. Must for each house, office and workplace. Ideal for new virtual door opening and to attract good fortune .Can solve many problems due to its innovative design
Long description:
As per ancient Vedic vaastu wisdom, Main door of any premises is like mouth in our body. The state of your health depends on how well you control the intake from your mouth. Similarly, vital energy from the environment enters the building through our main door. This vital energy coming from main door can bring peace, prosperity & happiness & also problem if it is negative.
90% of our houses, offices & work places have wrong main door? No wonder we lack happiness, satisfaction, peace, prosperity & health. As per vaastu, there are 32 possible entrances in a building  & each of it has its own property. But only a few main door locations are auspicious & positive & can you positive, favourable results. Majority of the entrances are inauspicious & those which produce negative results. Now you have a tool that can make any door into a Fortune door!
Get free ebook on vastu shastra https://docs.google.com/forms/d/e/1FAIpQLSdFoxPjunPvCiUr7fjHNVh8sG-WehSGWkiXf7AXFNSurOPEsA/viewform?usp=share_link
How to Use
As per recommended by your Pyra Vastu consultant. You can fix Fortune Door Gold by two methods. First you can fix on the top of existing main door from inside to make it positive. Secondly, you can use the Door-Locator disc and find the positive direction and fix the Fortune Door Gold on the wall to open new virtual door. In the second method first you have to close (virtually) the main door with Pyra band and then open the new virtual gate. The virtual door can bring good, harmonious energy inside your house.