---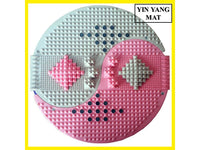 Sale
New computerized design for fast results!
1st time in the world: Power Mat with 28 Bio – Magnets…
Get free ebook on vastu shastra https://docs.google.com/forms/d/e/1FAIpQLSdFoxPjunPvCiUr7fjHNVh8sG-WehSGWkiXf7AXFNSurOPEsA/viewform?usp=share_link
TOTAL HEALTH & PAIN FREE LIFE WITH MORNING ENERGY BOOSTER
ACU-THERAPY-
Acupressure is an ancient Chinese science. According to this science, there is an energy flowing throughout the universe known as 'CHI'. This energy flows through our body along 12 main energy channels called meridians. These meridians are associated with specific organ or part of the body. When this energy flows, is blocked due to injury, emotional stress or imbalance lifestyle, we tend to develop physical ailments as well as symptoms of depression and moodiness. Pressure on correct vital points will stimulate energy flow and free the blockage, unlocking tension and restoring total health.
MAGNETIC HEALING-
Omni presents magnetic force is remarkably used in modern medicine of diagnosis and treatment. Magnets also improve metabolic activity of each cell, blood circulation, and bio energy flow and oxygen level. It helps in rejuvenation of cells, tissues, glands and nerves. It relieves from aches, pain and makes you free from disease, depression and tension.
PYRAMID POWER 
Secret power of Pyramids can helps us to heal and control pain. Healing field of Pyramid takes you to enhance alpha state of mind; thereby life transforming energy flow brings vibrant health.