---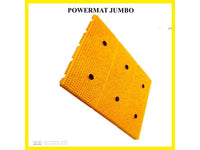 Sale
JUMBO SIZE FOR INSTANT PAIN RELIEF AND TOTAL HEALTH & WELLNESS
NEW AGE TECHNIQUE FOR:
Foot Pain
Heel Pain
Calf & Leg Pain
Knee Pain
Based on Time tested principles of Accupressure, Magnet therapy and Pyramids
Long Description:- BENEFITS OF JUMBO POWERMAT
Improves blood circulation and the energy flow in the whole body.
Stimulates foot reflex points of major organs to improve the vitality.
Gives a complete de – stress feeling.
Use in morning for all day energy and in the evening for relief from fatigue.
Pyramid power unlocks the blocks in mind, body and soul.
Gives relief in leg, heel and from calf pain instantly.
It's like a 'doctor at home' and a must for all.

Get free ebook on vastu shastra 

https://docs.google.com/forms/d/e/1FAIpQLSdFoxPjunPvCiUr7fjHNVh8sG-WehSGWkiXf7AXFNSurOPEsA/viewform?usp=share_link
HOW TO USE:
It comes in 3pcs, join by all three by interlock and your mat is ready. Simply stand and do spot walking on PowerMat for 5 minutes twice a day. Based on time tested methods of Accupressure and pyramid power. This unique invention gives great results! This is complementary to usual medical care. If symptoms persist consult your physician.